What Are the Best Translation Apps For Shopify in 2023?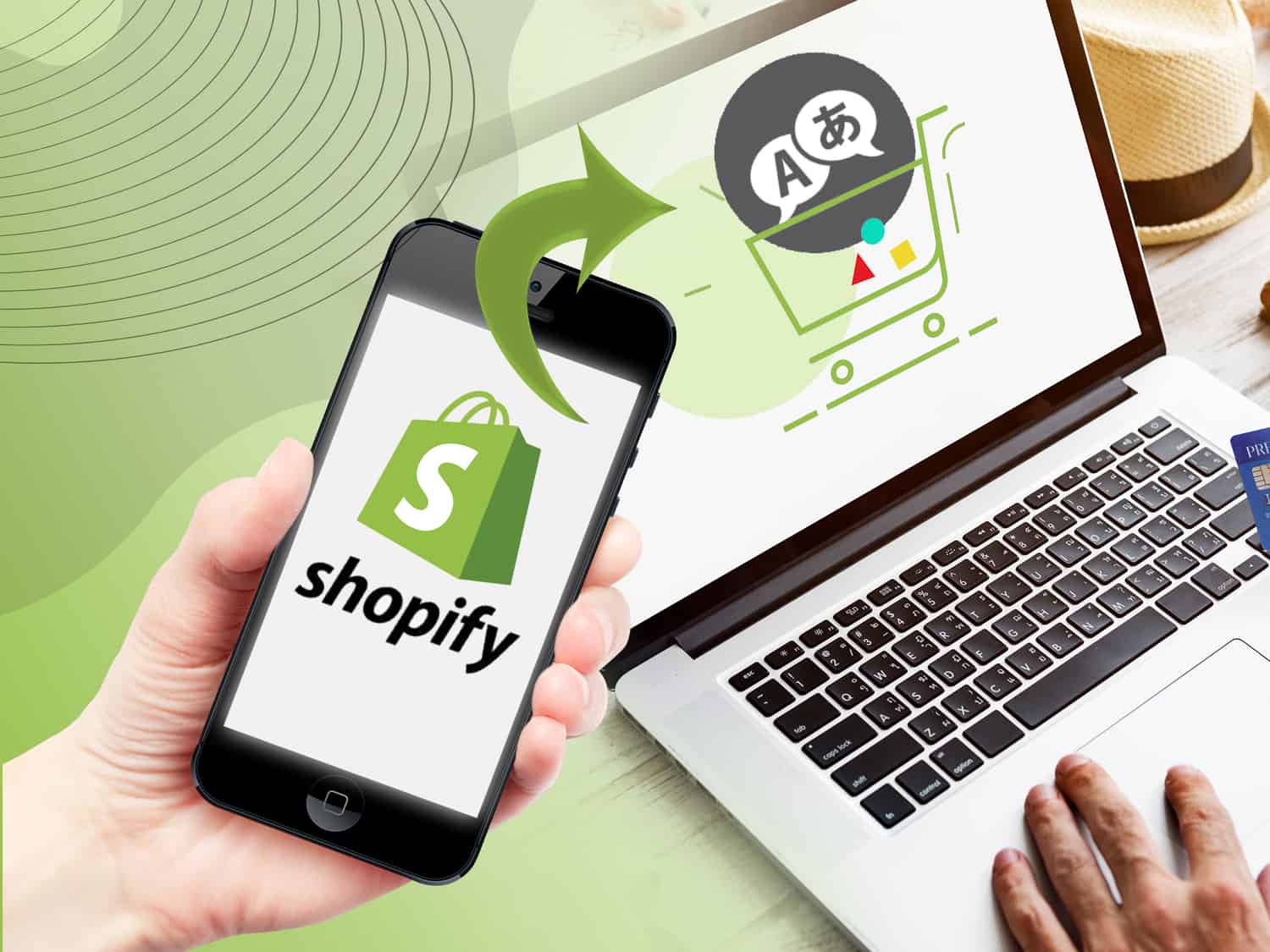 Online stores today can get massive traffic and sales if they offer international shipping. But reaching international customers comes with several requirements. One of those is having a translated online store.
Those who have an independent website will have to work with freelancers and their developers or with an e-commerce translation agency to turn their store into a multilingual website.
On the other hand, store owners on platforms like Shopify get to enjoy a number of benefits like using apps, which range from easy ad-creation to shipping to translating their Shopify store.
To translate their stores on Shopify, business owners have to use a Shopify translation app from the Shopify app store. And like any field on the platform, there are dozens of Shopify translation apps.
In this article, we're going to answer the question "What are the best translation apps for Shopify?" along with the benefits and pricing for each.
What are Shopify apps?
Shopify apps are applications that help online store owners make the most of their online store on Shopify.
There are apps that help store owners increase sales and conversions, manage online marketing campaigns, create checkout options, send emails, use local or international shipping among many other options.
Among those benefits is helping store owners offer Shopify store translations.
Some apps are entirely free, while the majority offer either a free plan or a free trial.
As store owners select between the different payment plans, the higher the price, the better benefits they get.
best translation apps for Shopify
Now that we've covered what Shopify apps are and how stores use them, let's look at the top five translation apps on Shopify and see what they have to offer and more.
G Translate is the highest-rated translation app on the Shopify app store, boasting over 1,480 5-star reviews from a total of 1,674 reviews.
This Shopify translation app offers nine benefits in its free plan. Its multilingual SEO translation options begin with the first paid plan.
G Translate's paid options include offering store owners sub-domains for each language translated, URL translation, as well as client dashboard with analytics.
Plans and Pricing
G Translate includes an all-free plan with unlimited words and page views using machine translation along with living chat support.
In addition to the free plan, there are three paid plans.
Langify is the second-highest-rated translation app on the Shopify store. With over 1,150 5-star ratings, Langify offers eight translation benefits and options to its customers including search engine optimization (SEO).
In addition, store owners can use it to not only translate their products and descriptions but their entire Shopify store. This includes the homepage, navigation, products and collections, blog posts, check-out information, notifications such as email and SMS, and more.
Langify is "completely compatible with Shopify's native translation features. This means, whenever Shopify improves or adds features, we'll adapt immediately," Langify says via their Shopify page.
Langify offers translation services for Shopify store owners in 20 languages.
Plans and Pricing
The Langify translation app comes with a 7-day free trial. After that, store owners are charged $17.5 a month to use the app.
Request A FREE Translation Cost Estimate!
Click the below button and request a free price quote for translation services—no commitment on your side.
The third-highest translated app in the Shopify app store is the Weglot app, which cites "Nikon, Volcom, and Felt Bicycles" among its global customers.
Until late December 2021, Weglot has received 1,090 5-star ratings from a total of 1,229 reviews.
"With Weglot, you can have an instantly translated store in under 5 minutes," the translation app highlights in its official Shopify page. It adds that it carries out its first layer of translation using machine translation.
This allows Weglot to act as a fast solution for online stores.
Weglot then lets store owners edit the translation or use its team of professional translators to edit the machine-translated content.
Like Langify, Weglot translates a host of content including website content, notifications, pop-ups, reviews, and checkout. It also entails SEO translation with its services.
Unlike Langify though, Weglot provides translation services in 100 languages.
Plans and Pricing
Weglot is free to install and use to translate up to 2,000 words in one language.
Excluding the enterprise plan, Weglot offers four payment plans to help store owners with their language translation needs.
Weglot's starter plan, which includes translation for one language and up to 10,000 words, is worth EUR 99 per year.
Coming in at number four on our list is Translation Lab, known as T Lab – AI-Language Translate.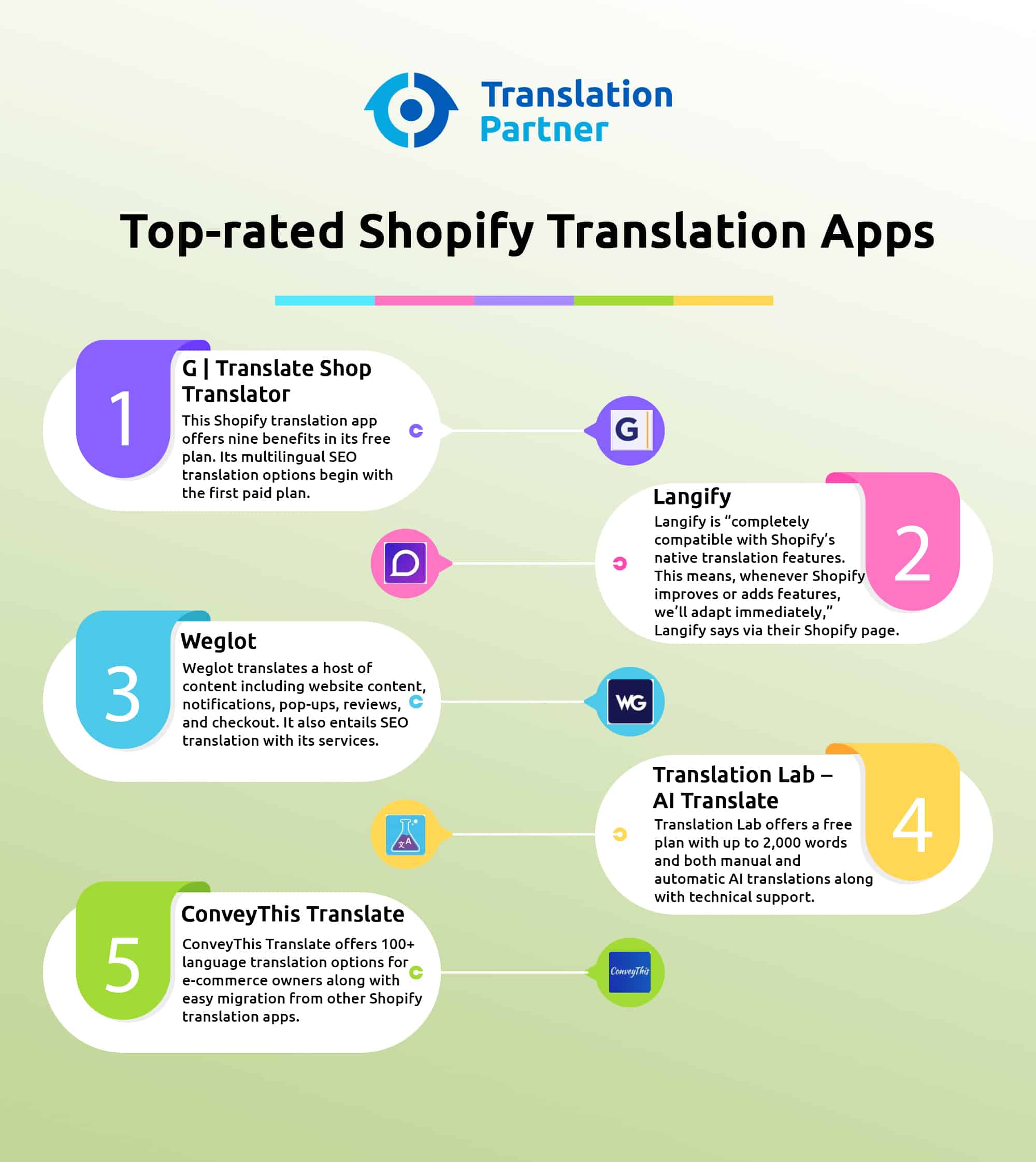 Unlike the previous Shopify translation apps, T Lab enables store owners to translate both currencies and content for their online store.
"Manually translate every resource into multiple languages – products, collections, blogs, pages, emails & SMS, meta fields, shops, shop policy, links, product variants, etc," Translation Lab says via their Shopify page.
They also provide translation for store checkout and a "customizable language switcher." Their currency switcher includes over 160 currencies.
Plans and Pricing
Translation Lab offers a free plan with up to 2,000 words and both manual and automatic AI translations along with technical support.
The first paid plan starts at $9.99 a month. All their paid plans include a 30% discount.
ConveyThis Translate offers 100+ language translation options for e-commerce owners along with easy migration from other Shopify translation apps.
The ConveyThis Translate app helps store owners through 24/7 customer support available in 15 languages.
Plans and Pricing
On Shopify, they offer an all-free plan along with a link to their website where they offer four paid options starting at $5 for 10,000 translated words in 1 language.
Conclusion
Whether local or international brands, there are many e-commerce stores and non-eCommerce websites that are using translation to reach a bigger target audience and grow their sales.
Moreover, many popular brands have their store on Shopify.
These international brands include French athletic wear store Decathlon and chocolate maker Lindt, which launched its online store within five days when the pandemic shut down offline stores.
So, if you have a store on Shopify and need help translating it, you can select one of the above-mentioned Shopify apps or get in touch with TranslationPartner. Our e-commerce translation experts will translate your online store with native expertise and precision.
Request a Free Quote from Translation partner
You can ask for a free translation cost estimate from our team, there is no commitment on your side