The Complete Guide to Online Course Translation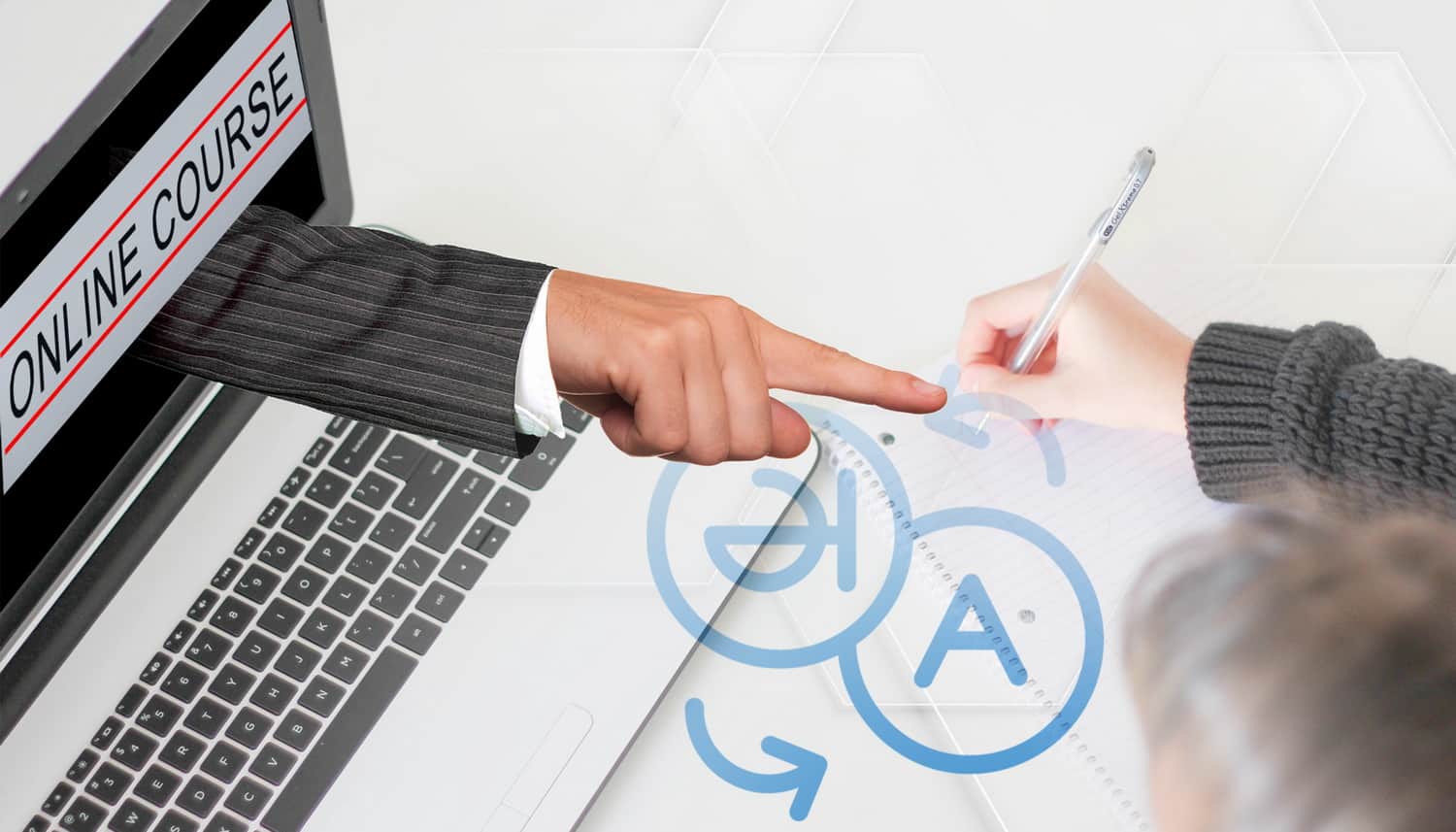 Have you ever considered translating an online course?
Online education has been making headway in recent years. And although it was made even more necessary after the coronavirus pandemic, e-learning isn't new.
It's just grown significantly and many companies and individuals around the world have discovered its many benefits.
E-learning industry statistics by Global Industry Analysts expects the global online learning market to be worth $325 billion by 2024, triple the $107 billion recorded in 2015.
The rise of e-learning has prompted another rise in another industry. That's the translation and localization industry.
As more people and companies seek online education tools and options, a need for translating e-learning materials has grown.
And one of the most important e-learning options is courses.
Whether it's your own course or one given by someone else, translating online materials, specifically online courses, comes with a few requirements that agencies, freelancers, and companies need to be aware of.
In this article, we're going to uncover the four-stage process for translating online courses.
Online courses on the rise
The global e-learning industry is set to continue growing and expanding in the coming years.
In the United States, the e-learning market is forecast to reach $12.81 billion between 2020 and 2024. (TechJury)
Roughly 77% of US corporations used online learning in 2017, marking a massive rise from the meager 4% recorded in 1995. The data forecast that 98% of US corporates would include e-learning in their organizations in 2020. (Small Business Trends)
Meanwhile, Business Wire expects the world's corporate e-learning market to be worth nearly $50 billion by 2026.
Falling under the greater e-learning umbrella, corporate e-learning is when employees take online training sessions or courses to work or continue working for a company.
This training can include and cover anything from sales, marketing, product training, or attending events such as conferences and workshops.
As you can see, e-learning covers a broad spectrum of educational topics. From human resources to web development to marketing to learning languages to cryptocurrency to anything you can think of.
There is literally an online course for almost every branch of knowledge.
To spread all of this knowledge, many companies and organizations look to translate e-learning materials.
The 4-stage process for translating an online course
But translating online educational content is a new field that comes with a different set of challenges and experiences.
The e-learning translation process is significantly different from any other translation process because of the various e-learning formats involved.
To help you understand how to translate an online course, we've divided the process into four main stages. Each stage includes a number of bite-sized steps.
Stage 1: Compiling information for online course translation
When it comes to translating an online course, there are a few questions you need to ask your client. That client could be a company or an individual.
Whether or not you get a translation brief at the start of your project, we recommend sending these questions to your client early on.
Doing so will help you determine the cost of the translation services you'll be providing fairly and accurately.
Ask them:
1) How will the content be delivered?
The way the online course is delivered sets out the main requirements for your overall translation process.
This includes the various video formats mentioned, supporting materials, and if there's a voice-over.
2) What needs to be translated?
We've already mentioned that there are several elements included in an online course. Naturally, you want to know which of these elements needs to be translated.
Is it the course material? The speech or voice-over? Additional handouts? All of those?
3) How will the content appear? Slide deck? Ebook? Subtitles? Something else?
Another important question for your client is how the course content will appear. Where will your translation go?
Is the translation going to appear as subtitles? A voice-over presenting over a slide deck in the target language? Is it going to be in the form of an e-book, presentation, or something else?
4) Who is the content for?
This question focuses on the course content's target audience.
Knowing who the audience is and their level of understanding of the course topic will help you set the tone of the work.
It can also impact whether your choice of language is formal, informal, or semi-formal.
5) Languages needed
Naturally, you'll need to ask about the languages you'll translate the online course to.
This question is more relevant to translation agencies that can handle more than one language at a time for a specific project.
6) Do they need a voice-over for the target language?
Since this is an online course, there's a big chance the client or company will require voice-over work. You'll need to see if this is something you'll be doing or outsourcing and if it's the latter, to whom?
Agencies often handle requirements such as these and include them in their proposals and contracts.
Stage 2: Preparation the online course translation
Now, we've finished getting basic information to start the project. Let's move on to preparing for the translation itself.
7) Pre-translation prepping
At this stage, you should have asked your pre-project questions and received a translation brief from your client.
In this step, you'll need to read the content and begin conducting your research about both the online course topic and the information you're going to translate.
8) Create a glossary and style guide
Whether you're working alone or within a team, you should create a glossary and style guide for the course.
The client may or may not provide a simple or detailed style guide. Either way, be prepared to create your own.
9) Set up your review process
No translation process can exist without a review process to complete it.
And since online courses can sometimes be quite long, be sure to set an effective review process in advance.
Whether you choose to do it yourself or hire a reviewer, set the criteria for review and edits.
10) Divide the content among team members
This step will depend on the volume of work you have. Especially since some courses are longer than others, while some involve only translating the course's written materials.
To ensure an effective translation, discuss how the process will work if you're collaborating with a team or friend.
This applies to freelancers, translation agencies, and even in-house translators.
Stage 3: Translating the online course
As you can see, there's a lot of preparation involved with online course translation. Now it's time to get into the nitty-gritty of the translation itself.
To speed up your process, you can:
11) Use computer-aided translation tools
Computer-aided translation tools (CAT tools) help translators unify their translated works, speed up the process, and reduce errors.
However, clients must be aware that CAT tools cannot operate without a human behind them. They are by no means like taking the text and putting it in Google Translate!
12) Translate using your glossary and style guide
Use the glossary and style guide you've created from stage two in your translation. Like the CAT tools, this will help you speed up the translation and ensure accuracy.
In the event that the online course translation requires audio translation or voice-over, if you're a freelancer, you may want to outsource this on the client's behalf or let them take charge of it.
If you're an agency or company doing the course translation, you may want to refer this part to a translation agency like TranslationPartner or to a voice-over company once the translation is complete.
13) Translate content for visuals
An important element in online courses is the visuals included in the presentation, e-book, or other material.
Part of your e-learning translation process is translating or localizing these visuals and the content accompanying them. You'll have to bear in mind cultural differences as well.
Stage 4: Finalize and deliver
We're almost there! By this stage, if you've completed your online course translation. Now it's time to:
14) Begin the review process
This is where you put into effect your review process from stage one.
If you're doing the review yourself, it's best to stay away from the text for a day or two and then look at the translation with the eye of a reviewer, not as the one who translated the content.
If you're part of a team or a translation agency, then the review process will be handled by a reviewer or team of reviewers.
15) Compile the content and give a final review
Now compile all sections of the translation after the review and give it a once over. Include your images, infographics, or related content.
16) Deliver the content
And finally! It's time to deliver the translated course to your client.
Wrap up
If you're looking to translate e-learning content and especially online courses, you'll need to decide who your language service provider will be.
Is it going to be a freelancer? A translation agency? The latter with a freelance voice-over? Yourself?
You should also be aware of the benefits of giving your online course to a translation agency.
Such agencies comprise a larger team which means faster delivery, access to CAT tools, and easier outsourcing.
Agencies are also experts when they need to turn to transcreation, localization, and having to overcome e-learning localization challenges.
Want to reach a wider audience with your online course? Consider a translation and get in charge with TranslationPartner for a free quote.