6 Easy Steps to Create a Translation Brief in Minutes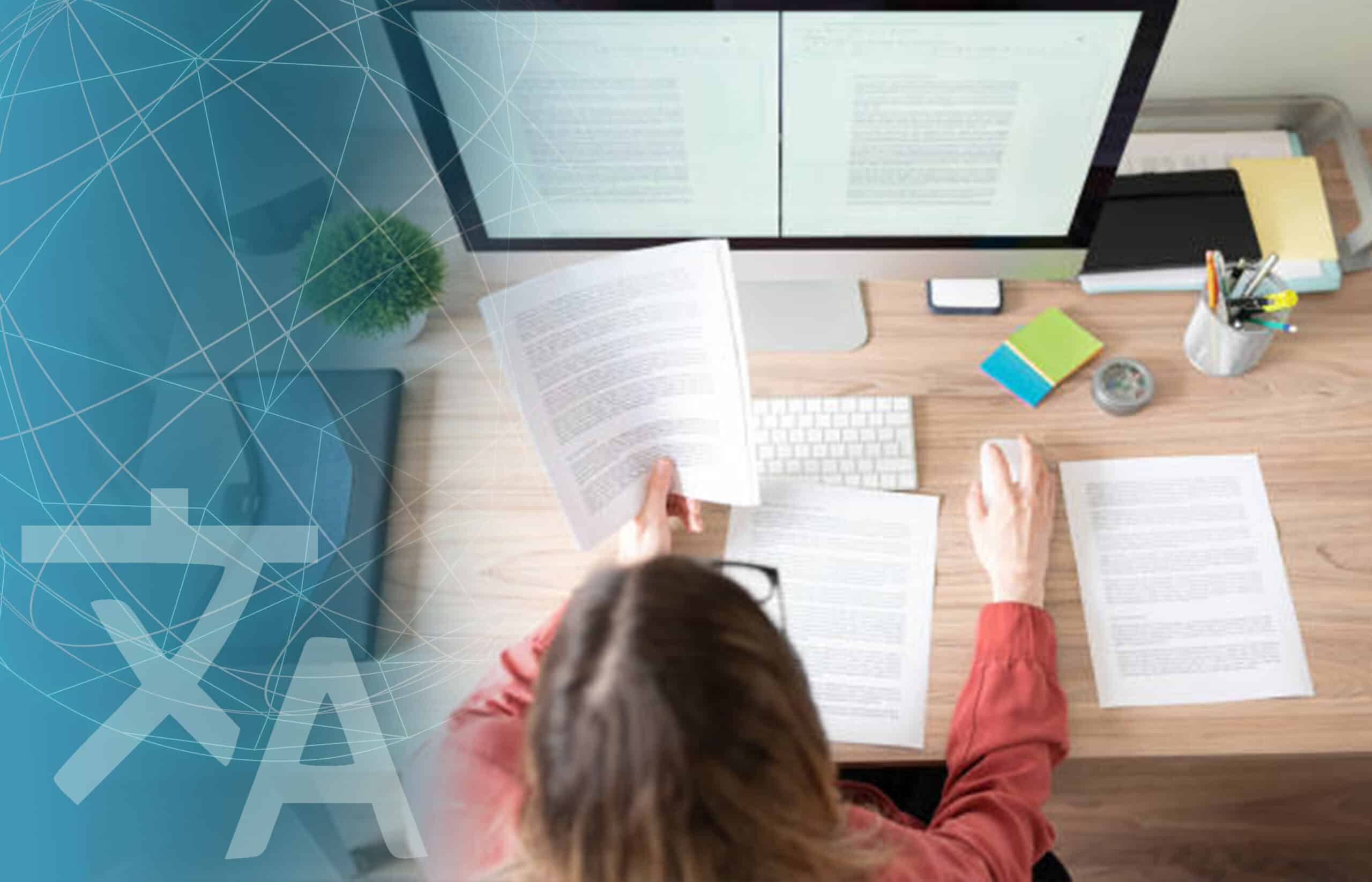 When you get a new project, the first that comes to mind is having a brief with information about the project. In the world of translation and localization, this is called a translation brief.
Briefs are a common element in the world of marketing. A potential client would provide a document detailing their needs and expectations and the second party, whether another company or a freelancer, would begin pricing and working based on that information.
That document is the brief. And it's essential for any business, large or small, that's looking to outsource a service.
However, in the field of translation, briefs aren't as common.
Not many companies, especially small and medium businesses, and solopreneurs, are familiar with what a brief is or how to create one.
But having such a brief offers a host of benefits to all stakeholders in the translation and localization process.
In this article, we're going to tackle what a translation brief is and what to include in your next brief.
What is a translation brief?
A brief, whether for marketing or translation purposes, is a document that outlines the requirements for all parties involved.
It ensures that all parties taking part in a project have the same information to start a project.
Having a brief helps teams plan and execute while ensuring that executives or managers are informed of requirements on their end.
In other words, a brief is a plan.
"Having a thorough plan can help projects run smoother and more efficiently. Marketing briefs serve as the blueprint for a marketing campaign or project, keeping all team members updated and focused on the project's main objectives," explains hiring website Indeed in regards to marketing briefs.
Luckily, the same applies to translation briefs, although the content is quite different.
This difference mainly stems from the nature of the project and the requirements involved.
If you're planning to assign some translation work, whether to a translation agency or a freelancer, a translation brief will save you a lot of time and money.
Who needs a translation brief?
The client, the one assigning the work, is the one responsible for creating the translation brief.
But who needs such a brief? That would be the translation agency or freelancer they'd like to get a quote from.
The biggest benefit of having a translation brief is that it helps the freelancer or agency provide an accurate project quotation.
Moreover, presenting the same translation brief to multiple translation companies allows you to compare project quotes easily. After all, they're all based on the same requirements and criteria.
The translation brief example checklist
So what should a translation brief include?
Or rather what's a good translation brief example?
We've created the following six-point checklist to help you create your next translation brief. You may re-arrange in any way you see fit.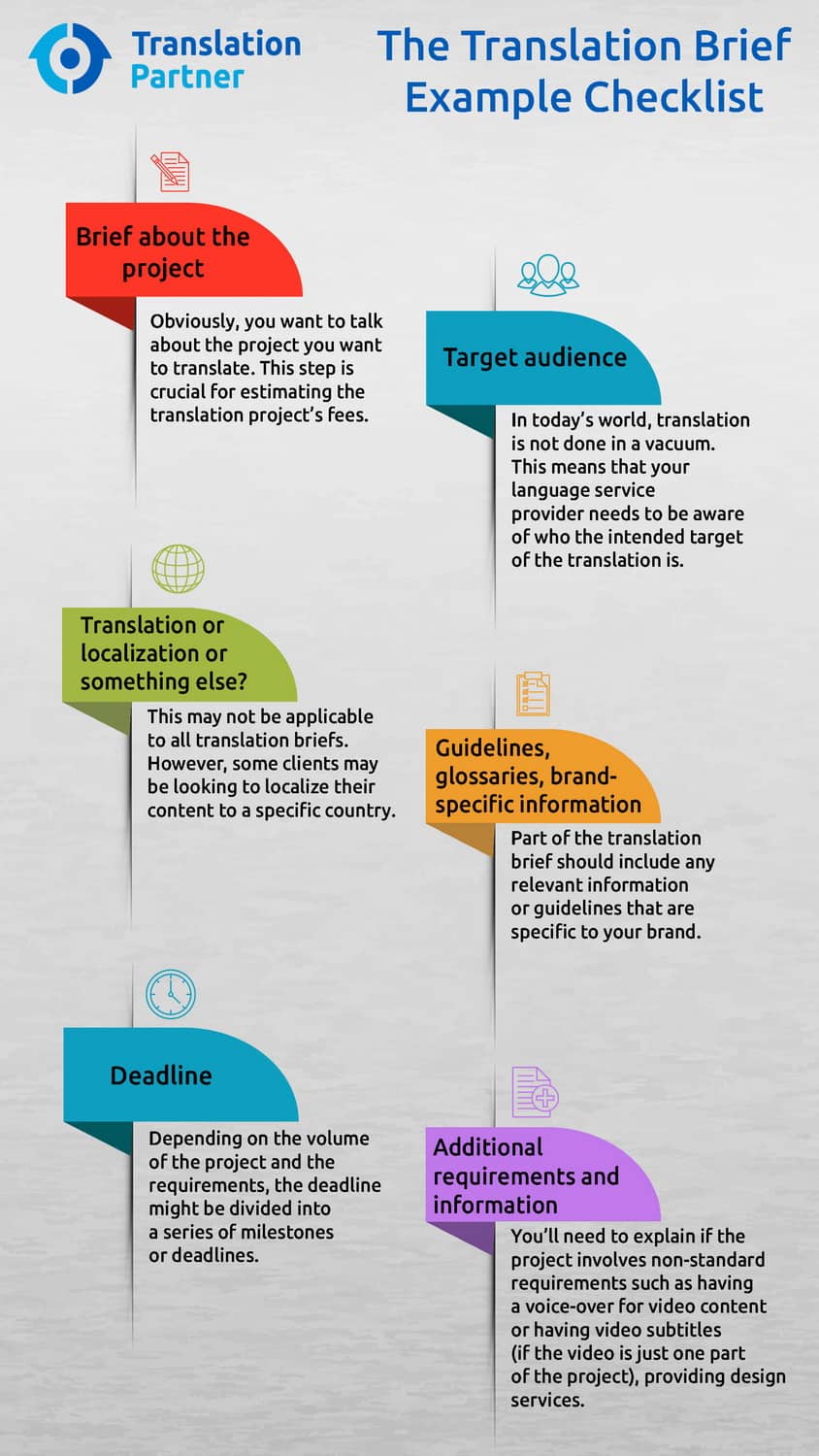 1. Brief about the project
Obviously, you want to talk about the project you want to translate. This step is crucial for estimating the translation project's fees.
As a client, you'll need to answer the following questions for the potential translation company you'll be collaborating with.
– What is this project about? What is the main topic?
– What niche or field is this project in? (Ex: education, finance, construction, architecture, marketing…etc)
– Who is the contact person for project-related information and needs?
– What is the volume of this project? (This can be word count, number of video minutes, or a combination of several aspects)
– What is the source language for the project and what is the target language?
2. Target audience
In today's world, translation is not done in a vacuum. This means that your language service provider needs to be aware of who the intended target of the translation is.
For example, in medical translation, a research paper may be directed to hospitals or medical care providers rather than to other doctors.
Similarly, if you're looking for social media translation, your service provider needs to understand who these ads will target.
Are they women aged 20 to 30 or 40 to 50? How each age group talks and engages differs and these are elements that play a role in translation and localization.
The same criteria would apply to a company looking to translate Google ads.
3. Translation or localization or something else?
This may not be applicable to all translation briefs. However, some clients may be looking to localize their content to a specific country.
This often happens with video game translation, movies and entertainment, and translating online courses.
4. Guidelines, glossaries, brand-specific information
Part of the translation brief should include any relevant information or guidelines that are specific to your brand.
This can also include translation glossaries, phrases, or words the agency or freelancer isn't allowed to use.
5. Deadline
An essential part of any brief is the deadline.
Depending on the volume of the project and the requirements, the deadline might be divided into a series of milestones or deadlines.
6. Additional requirements and information
In this section, you'll need to explain if the project involves non-standard requirements such as having a voice-over for video content or having video subtitles (if the video is just one part of the project), providing design services…etc.
Basically, this section is for additional information that has not been mentioned in the project details in the first question.
Final comments
Having a clear translation brief will help you reach out to multiple agencies and freelancers faster. Why? Because you no longer have to get on a call to explain your requirements.
Your brief should answer the service provider's questions in advance.
In addition, with a good translation brief, agencies and freelancers will be able to price their projects fairly and estimate the time needed more accurately.
Generally, the absence of a brief causes agencies and freelancers to increase their prices. And the reason businesses resort to this is to factor in unclear deliverables and potentially underestimate the time needed to complete the project.
Do you need help creating a translation brief for your next project?
Get in touch with the team at TranslationParter for a 30-minute call on how to create the perfect brief for all your future projects.
Request a Free Quote from Translation partner
You can ask for a free translation cost estimate from our team, there is no commitment on your side