Social Media Translation: Best Practices and Bad Pitfalls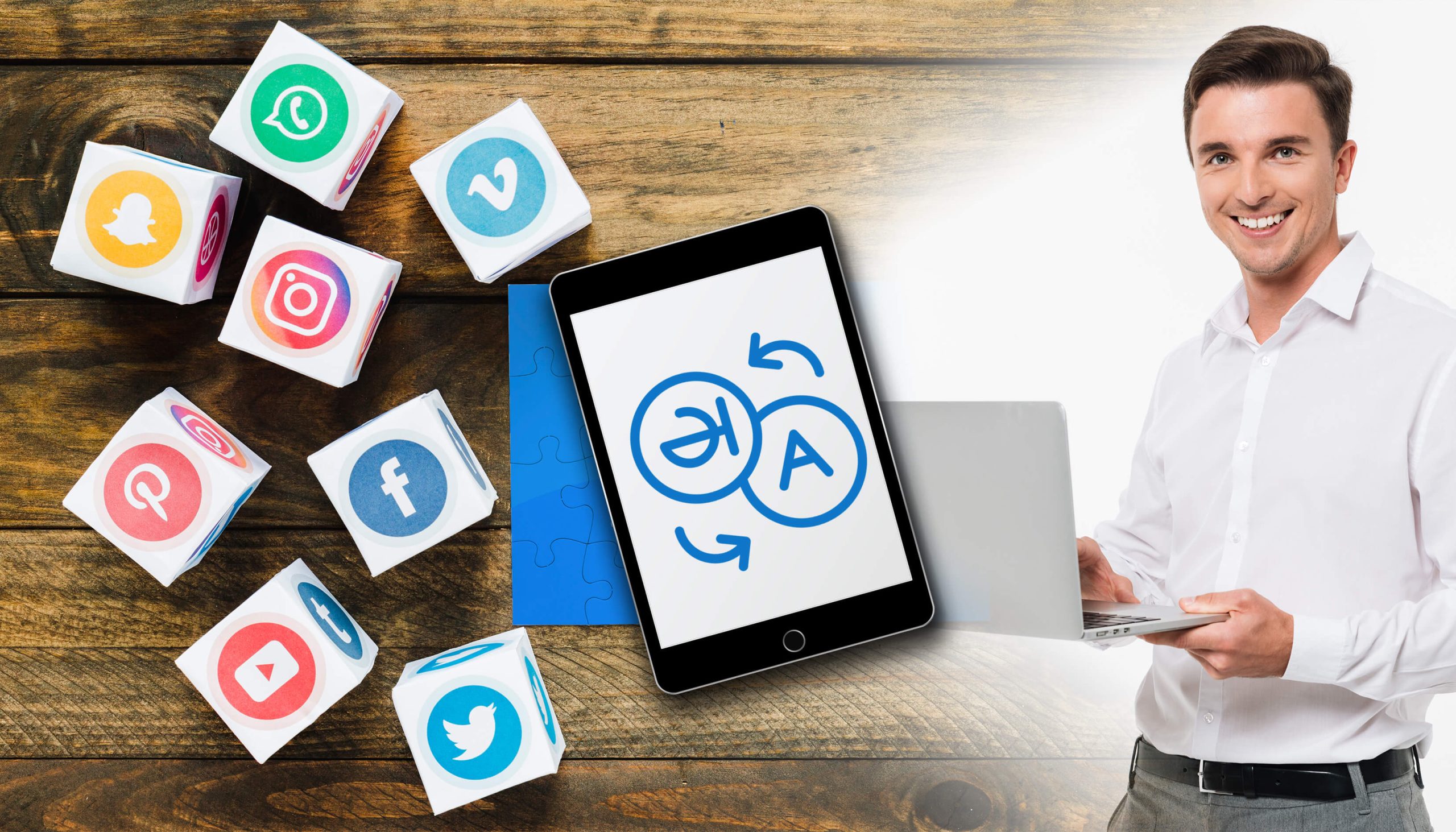 There are an estimated 4 billion users on social media that you can reach when you learn how to effectively translate your social media content.
This will allow you to expand your reach on a global level, which helps you gain new customers and grow your business.
In this article, you can learn about the best practices and potential issues that are common with social media translation so that you can develop the best approach for your business.
Know the Popular Social Network for the Target Country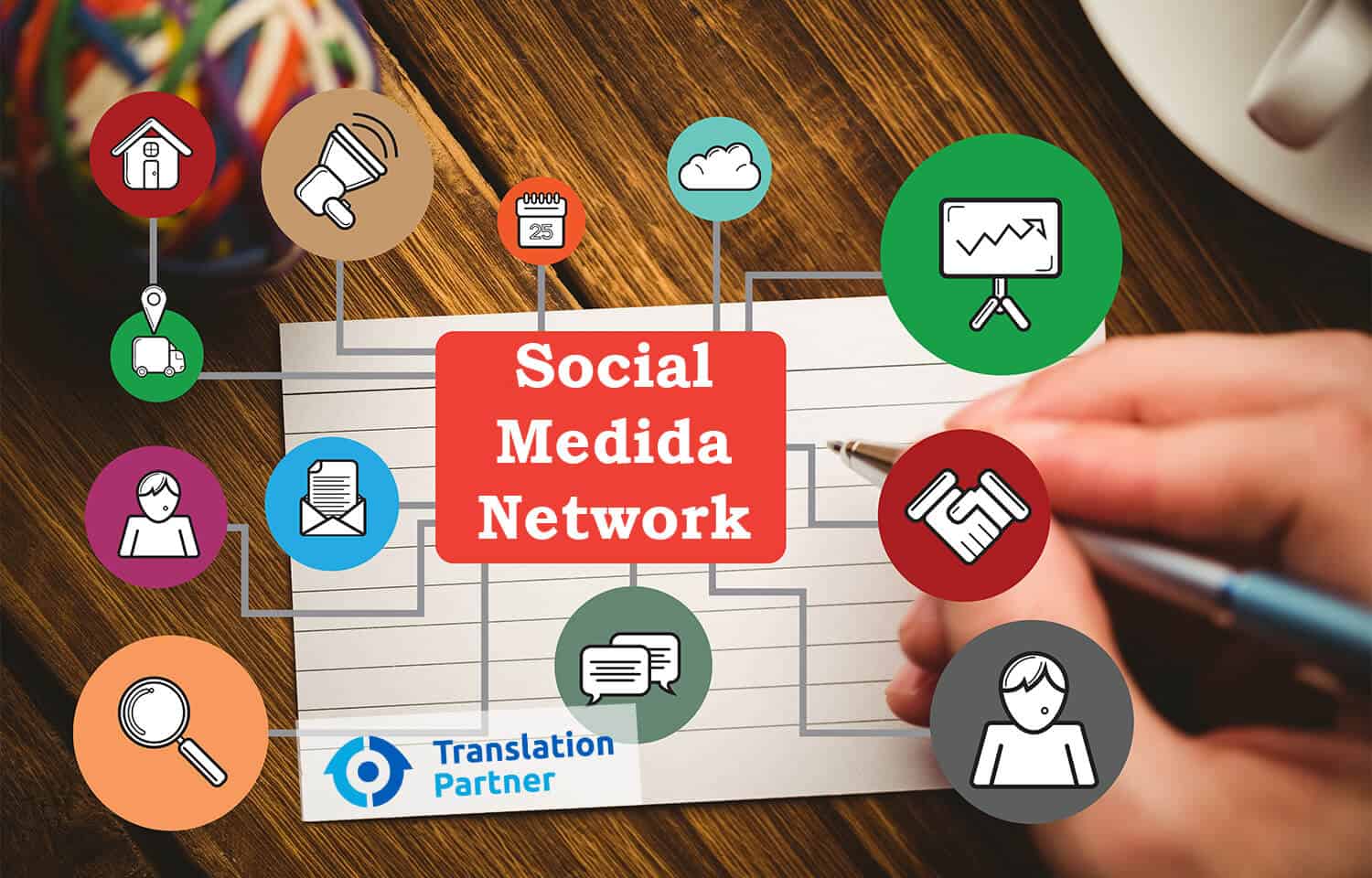 A major thing that people forget to do is to focus on what social media network is popular for the country that you are trying to target. You can spend a fortune on social media translation strategies, but it won't matter if you aren't reaching your target country.
You need to be sure that you do your research to see which social media network(s) are the most popular so that you know exactly where you should be focusing your efforts. This will ensure that you are spending your time and money wisely and will get the best results.
Study the Locale of the Country You are Targeting
As previously mentioned, it's essential that you are focusing your localization and translation efforts to get the best results. That's why before you start working on a translation, you should focus on researching the locale of the area. What areas are you interested in localization? That should be the first step.
When you are doing research on the locale of the country you are targeting, there are a few things that you should be looking for. First of all, you want to check to see which social media sites (if any) the location you are targeting is most likely to use. You may find that some countries don't even use the social media websites that you do like Facebook or Instagram.
For example, in Russia the popular social media site is VKontakte. Start doing research as to which social media sites those locations are using so that you are getting translation for those sites to reach your audience.
Doing your research will also help to make sure that you are getting the right language for your translation. Translations mean nothing if you aren't using the right language to speak to your audience. Once you know which language is the right language to use, you can trust that you are going to be able to effectively communicate with your audience.
This is why doing your research on the location that you are targeting can be so important. Without this research, your social media targeting efforts won't be very effective.
Choose the Right Hashtags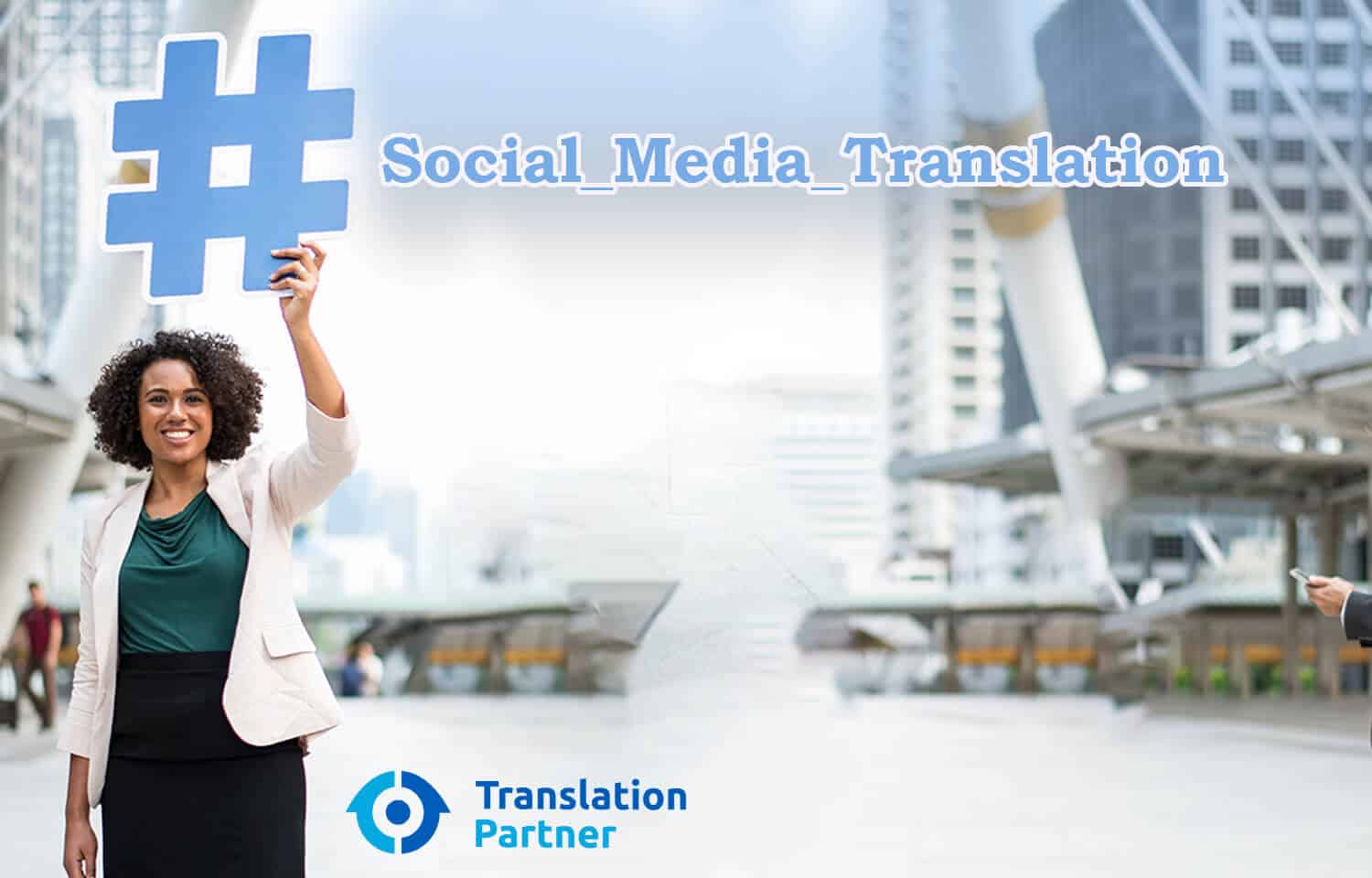 Hashtags are a major part of any social media marketing strategy. Without the right hashtags, your social media marketing won't be very effective at all. An essential part of social media translation is the perfect hashtag strategy.
Start planning early on in this process so that you know which hashtags you should be translating and how you can use these in your social media posts.
It's important to remember that when you do decide on which hashtags are relevant that you don't directly translate them into the language for the market that you are trying to target. Instead, you should take your research and look at the habits and behaviors of your target audience. Through research, you should also look at the international hashtags that your competition uses.
These are things that will help you make sure that you are using the perfect hashtags to attract your target audience.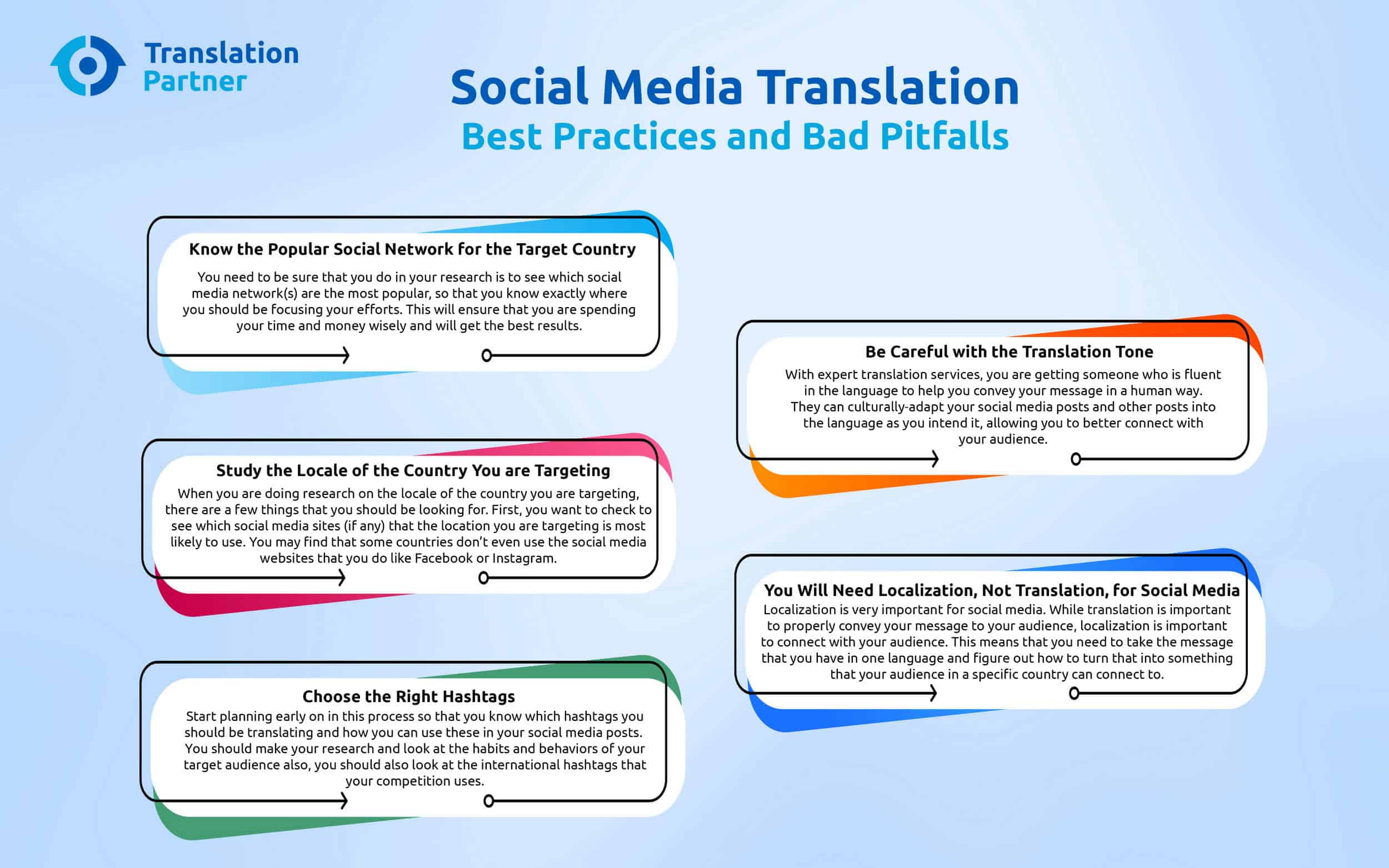 Be Careful with the Translation Tone
It's tempting to just take the easy way out and use tools like Google translate for your social media translation, but this isn't the best choice for your localization goals. Automated translations may have a purpose, but this can lead to campaign slogans and other things being poorly translated.
If there are poor translations, this can reflect very badly on your company and may turn customers off from wanting to work with you.
You also end up with issues with the translation tone when you work with an automatic translation tool. You may get the words that you are looking for, but you may not get the conversational and welcoming tone that you are looking for.
With expert translation services, you are getting someone who is fluent in the language to help you convey your message in a human way. They can culturally adapt your social media posts and other posts into the language as you intend it, allowing you to better connect with your audience.
Professional translation services are the best way to engage with your target country's audience in a way that will perfectly represent who you are as a company.
You Will Need Localization, Not Translation, for Social Media
Localization is very important for social media. While translation is important to properly convey your message to your audience, localization is important to connect with your audience. This means that you need to take the message that you have in one language and figure out how to turn that into something that your audience in a specific country can connect to.
You will need to go through this localization process for every country that you are trying to get your message with.
It's essential that you make content that is memorable and meaningful to your audience. In order to effectively do that, you need to:
Conclusion
Localization and translation are crucial to having a global social media campaign that will attract the audience to your brand. This means that it's important for you to invest in professional services to ensure that you get this perfect. Otherwise, your global campaigns may not be as successful as you'd like.
Request a Free Quote from Translation partner
You can ask for a free translation cost estimate from our team, there is no commitment on your side