8 Steps to Ensure an Accurate E-learning Translation Process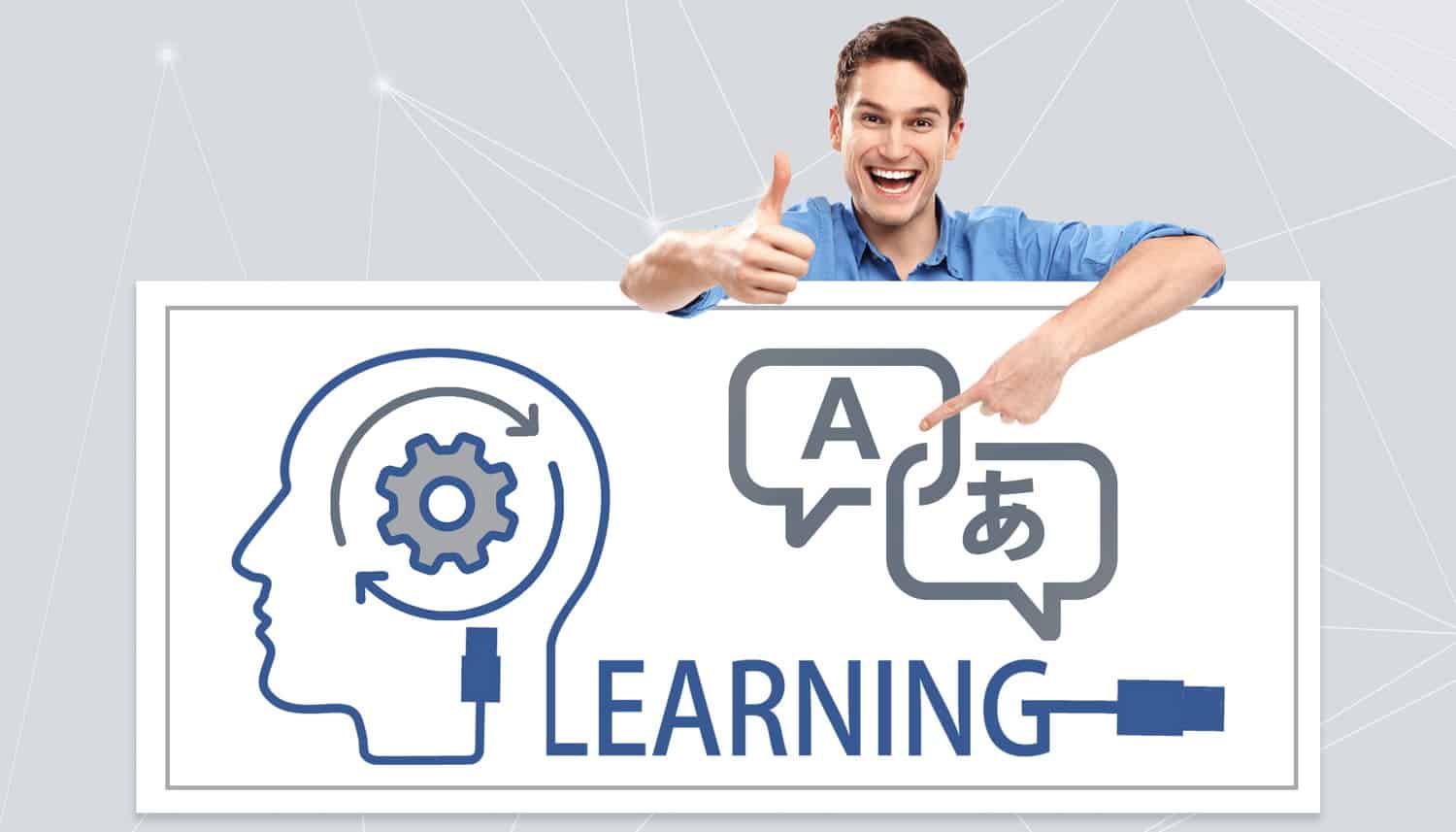 The 8-Step E-learning Translation Process You Need to Follow
It's no surprise that online learning, or e-learning, has been making strides in the past few years. After all, it's the natural progression to traditional learning and education.
But with the emergence and fast-paced spread of the coronavirus in 2020, the e-learning space has expanded and skyrocketed at the same time.
Companies, organizations, government entities, and individuals have all hopped on the e-learning wagon.
Whether it's for self-improvement, discovering new areas for work, enhancing individual and employee skills, or improving how business is done, or something else entirely, e-learning is on a rising trajectory for the coming years.
ReportLinker, which estimated the global e-learning market at $250.8 billion in 2020, forecasts that the market would "reach a revised size of $457.8 billion by 2026." This growth marks a compound annual growth rate (CAGR) of 10.3% over the six-year analysis period, according to the report.
It is also forecast that the academic e-learning segment would record a 10.2% CAGR and reach $314 billion by 2026.
But that's not all. The rise in online learning calls for e-learning translation and the methods needed to meet this new form of education.
As with most aspects of translation, e-learning requires a process. Although the e-learning translation process will differ from traditional education translation services, it comes with a few similarities.
In this article, we're going to focus on what businesses need to know about the e-learning translation process.
E-learning industry statistics
When it comes to the e-learning industry, here are some statistics worth considering:
– In 2019, the global online e-learning market was estimated at $101 billion, while the learning management system (LMS) market generated nearly $18 billion. (Statista)
– In the same period, mobile e-learning stood at roughly $19.5 billion. (Statista)
– By 2026, the global e-learning industry is forecast "to grow exponentially" and exceed $370 billion. (Statista)
– In 2017, nearly 77% of US companies used online learning. But 98% said they were planning to use it by 2020. (Techjury)
– The e-learning market in the US is expected to grow by $12.81 billion between 2020 and 2024. (Techjury)
– "IBM saved approximately $200 million after switching to eLearning." (Shift Learning)
– A study by Britain's Open University found that distance learning "consumes an average of 90% less energy and produces 85% fewer CO2 emissions per student than conventional face-to-face courses." (Knowledge Direct Platform)
– Mobile learning is considered "one of the fastest-growing markets" in the e-learning sector, maintaining an average growth of more than 20% in recent years. (Global News Wire)
– The mobile learning market registered $22.4 billion in 2020 up from only $7.98 billion in 2015. This figure is forecast to reach $80.1 billion by 2027. (Global News Wire)
The growing need for e-learning translation
The rise in any form of content, especially educational content, calls for translation and localization efforts to convey these new learning methods to the rest of the world.
At the same time, educational technology (Ed-tech) startups are on the rise to meet the growing demand for e-learning.
The translation of e-learning materials includes, but isn't limited to: online courses, books, audio content, video content, audio-visual content, and presentations.
e-learning materials can even include website content and blogs, which come with their own translation process and tools.
And since e-learning best practices require combining these various materials, an e-learning translation process is needed to support businesses, startups, government entities, schools, universities, and others in incorporating e-learning in their organizations.
What is e-learning localization?
E-learning localization is a deeper step of e-learning translation.
If you consider e-learning translation services as a large bowl, then e-learning localization is a smaller bowl that fits right in with the larger one.
E-learning localization is about adapting the content to a certain country, city, or dialect.
Let's say you have an online course in German that you want to translate to French. You may want to consider which French-speaking country or city you want to offer your course in. The French used in France is quite different from Canadian French and Swiss-French.
Although all three falls under "French," Swiss-French comes with a different accent and set of vocabulary and expressions. Numbers and meals are among the top areas of difference between the French spoken in Switzerland and France.
To give your online course the correct feel for the country where you'll be teaching it, you'll need e-learning localization.
The 8-step e-learning translation process
Both the e-learning translation process and e-learning localization process follow nearly the same structure.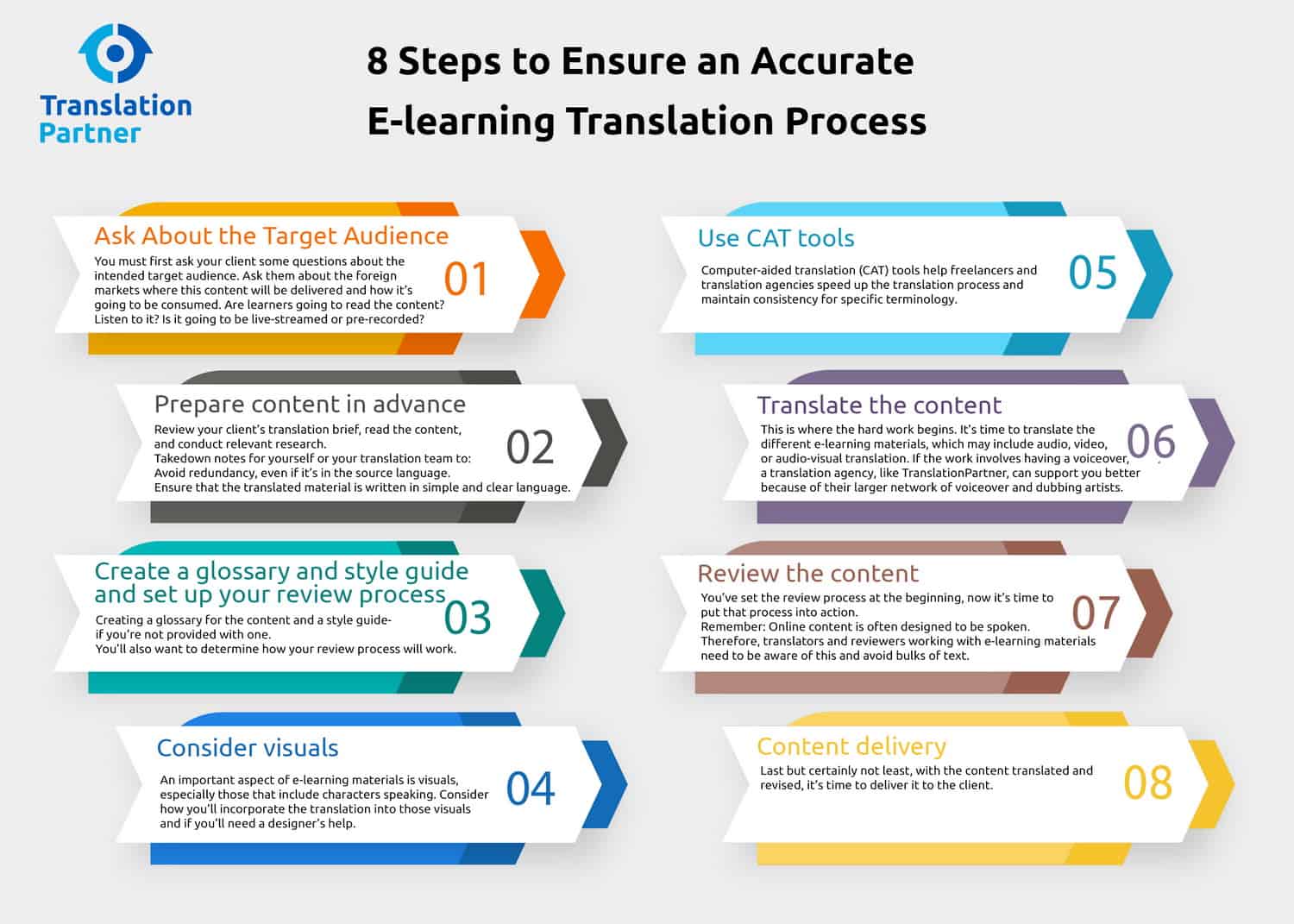 For the purpose of this article, we're focusing on the e-learning translation process.
1. Ask about the target audience
To begin any translation process, you must first ask your client some questions about the intended target audience.
Ask them about the foreign markets where this content will be delivered and how it's going to be consumed. Are learners going to read the content? Listen to it? Is it going to be live-streamed or pre-recorded?
2. Prepare content in advance
Review your client's translation brief, read the content, and conduct relevant research.
Takedown notes for yourself or your translation team to:
– Avoid idioms and colloquialisms which may not be understood by the target audience.
– Ensure that the translated material is written in simple and clear language.
– Avoid redundancy, even if it's in the source language. In some languages, like Arabic, writing may seem redundant but it's how people talk. Transferring this into the target language will make the e-learning materials boring and lengthy.
3. Create a glossary and style guide and set up your review process.
Another preparation stage step is creating a glossary for the content and a style guide – if you're not provided with one.
You'll also want to determine how your review process will work.
4. Consider visuals
An important aspect of e-learning materials is visuals, especially those that include characters speaking. Consider how you'll incorporate the translation into those visuals and if you'll need a designer's help.
5. Use CAT tools
Computer-aided translation (CAT) tools help freelancers and translation agencies speed up the translation process and maintain consistency for specific terminology.
6. Translate the content
This is where the hard work begins. It's time to translate the different e-learning materials, which may include audio, video, or audio-visual translation.
If the work involves having a voiceover, a translation agency, like TranslationPartner, can support you better because of their larger network of voiceover and dubbing artists.
7. Review the content
You've set the review process at the beginning, now it's time to put that process into action.
Remember: Online content is often designed to be spoken. Therefore, translators and reviewers working with e-learning materials need to be aware of this and avoid bulks of text.
8. Content delivery
Last but certainly not least, with the content translated and revised, it's time to deliver it to the client.
Wrap up
The e-learning translation process isn't an easy one. Particularly because it's a new translation niche. Not to mention, the content varies significantly based on topic, audience, and where it's taught or consumed.
With e-learning, working with a translation company or language service provider allows you to take away a large bulk of work and headache of administrative tasks.
The agency is able to take on the project from start to finish, provide a suitable quote for translation costs speedily, and collaborate with designers and voiceover artists if needed.
Looking to translate or localize e-learning content?
Get in touch with TranslationPartner today and get your free quote.
Request a Free Quote from Translation partner
You can ask for a free translation cost estimate from our team, there is no commitment on your side