Multilingual Websites Best Practices: How and From Where you Can Start?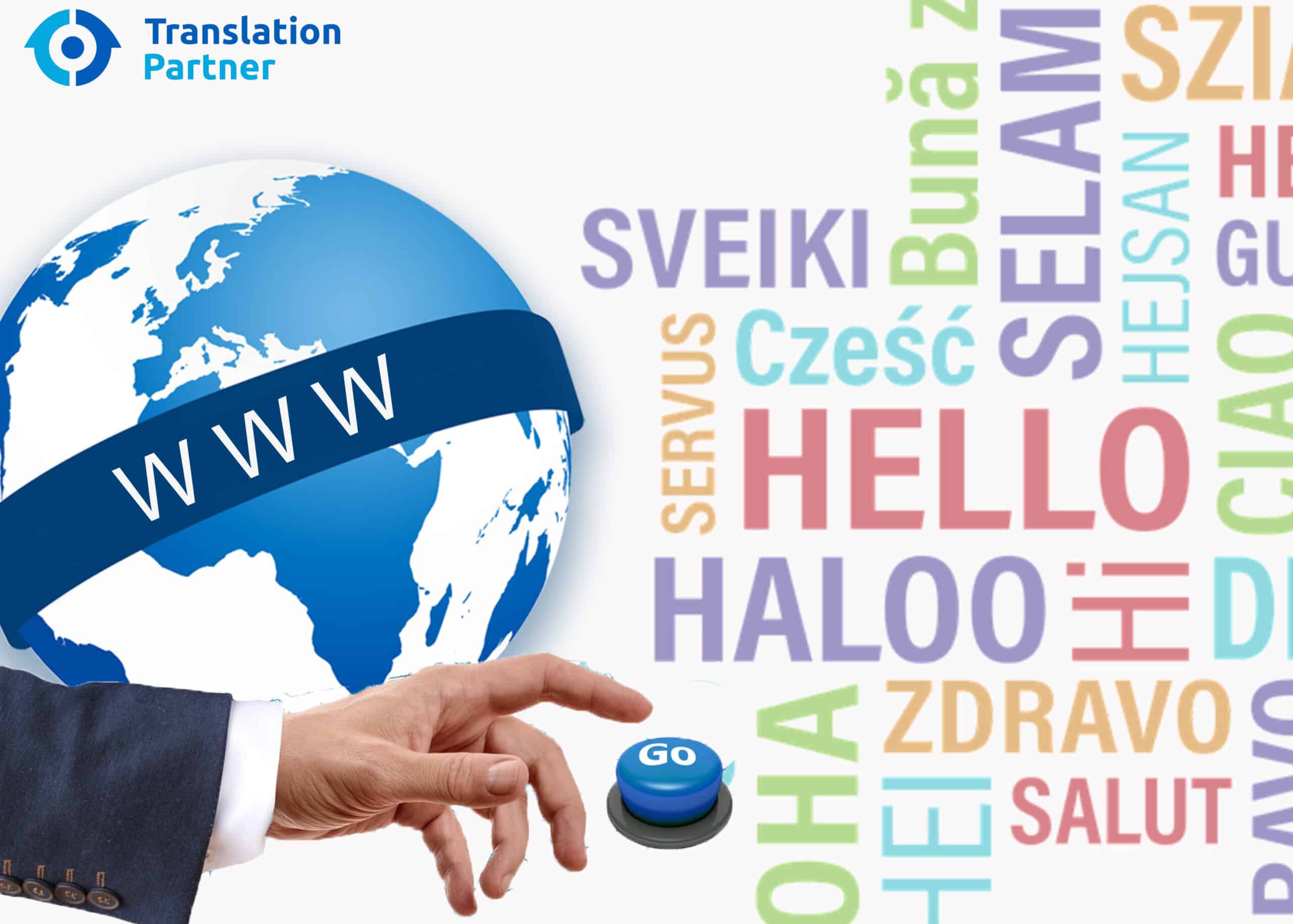 Multilingual websites are important to have a solid online presence if you are targeting international customers.
They can do a lot for your company:
Allow for better chances to reach more extensive markets;
Make it much easier for you to sell to individuals and businesses globally;
Leave a positive impression and establish trust with your non-native target audience;
Ensure better user experience and higher conversion rates;
And much more…
Long story short, adding another language to your website means that you are about to multiply your reach and consequently get more business locally and abroad and drive your business in the right way.
But there are a few practices you need to follow for your translated website to work.
Let me explain!
In this blog, we will dive into some details to put in your hand the multilingual websites bests practices that professionals follow to scale up their website translation work.
Multilingual Websites Best Practice: From where you can start?
1. Ensure that Machine translation will not replace humans
Website translation is a daunting challenge that requires skilled translators who know how to deliver a professional translation that adapts to the target audience's culture.
Many rely on machine translation to do the job, but a machine can't deliver the meaning as a human does.
Multilingual websites' best practices require you to rely on human translators who are well versed in the cultural aspects of the target languages and have proper experience in the website's field to easily detect any nuances in the text that machines cannot see.
2. Doing appropriate keyword research for the target languages.
Before you start your website translation, you need first to conduct keyword research.
Keywords are simply words or phrases written in the website content and make it possible for your potential customers to reach you via Search Engines. Keywords help you identify hidden opportunities and improve your ranking.
To start your keyword research, you need to understand the audience of your multilingual website and their search queries, and most importantly, to analyze the keywords your competitors use.
Top keyword research tools that you can use when translating your website.
What is the best way to make a multilingual website?
3- Make sure Google Indexes your Translated Website Copy
Indexing your translated pages comes at the top of multilingual websites' best practices. It is how Google works to analyze and understand the content and the files embedded in the translated page.
Make sure to submit a sitemap of your translated website in every language to Google Search Console. This will help your local website to rank for the target keywords your customers will use when searching online for your products or services.
4. Use best-in-class Document Management Systems DMS
Document management systems streamline the translation work and make it easy to update and create content. In most cases, businesses often have a dedicated team that is in charge of maintaining translations. DMSs simplify the management of multilingual content where editors and writers add the source content in their languages. At the same time, the translators focus on the translation process – All from one single platform.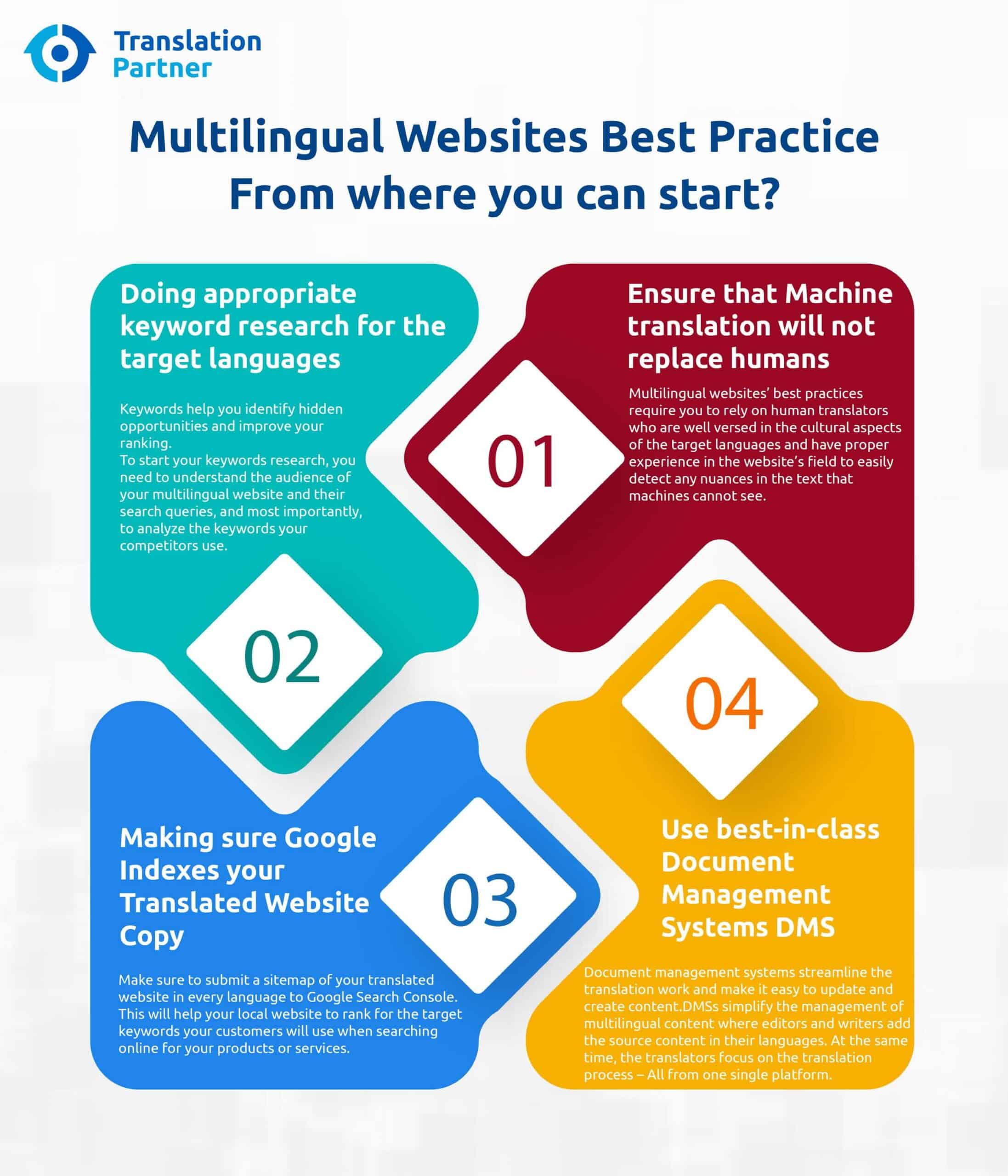 Wrapping Up!
Your website is usually the first thing your customers see when coming across your business. Providing a multilingual website gives a positive and professional impression to the entire visitors.
Multilingual websites ensure a better user experience and make it easy for you to navigate through a broader market of global customers.
All you need to do to ensure multilingual websites' best practices are to follow the most appropriate techniques that support your business processes and deliver high-quality translations while scaling your business with ease.
Request a Free Quote from Translation partner
You can ask for a free translation cost estimate from our team, there is no commitment on your side